TIC Imaging
Diagnostic Imaging Services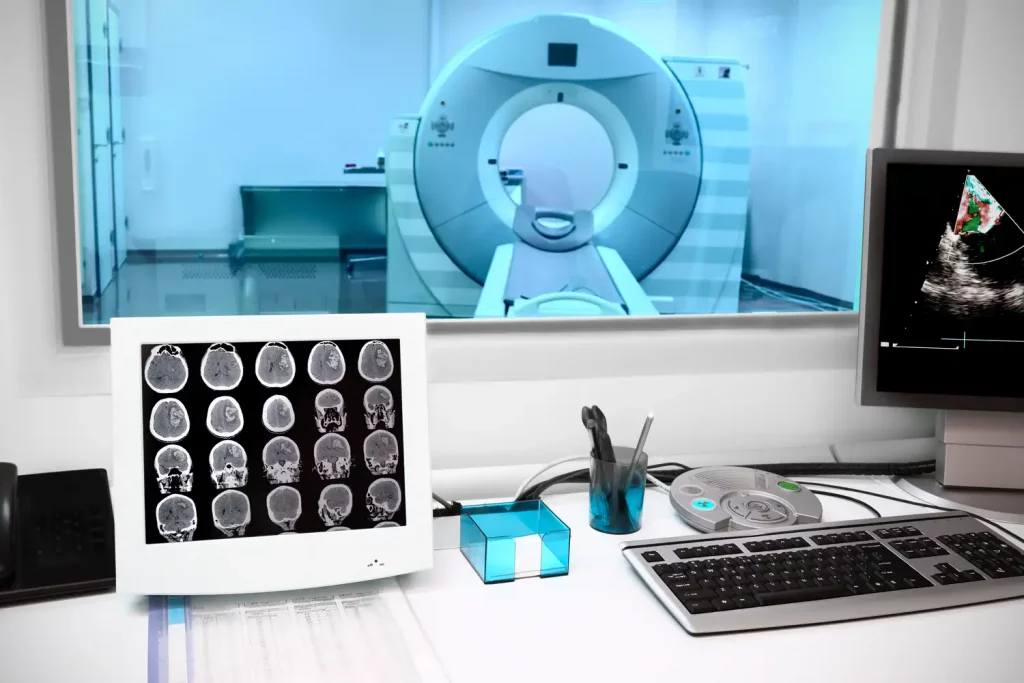 Access the most up-to-date and comprehensive diagnostic imaging services here at TIC Health. Equipped with some of the most advanced imaging technology, we stand out with our MRI 3 tesla, MRI 1.5 tesla, CT 640 slices, digital X-ray system, and ultrasound capabilities.

Our dedicated team, consisting of highly trained and experienced professionals, is the backbone of our high-quality imaging services. Recognising the uniqueness of each patient, we coordinate closely with you and your healthcare provider to offer patient-specific imaging services tailored to your distinct needs.

Benefit from our advanced imaging diagnostics that ensure detailed medical imaging, pinpointing even the slightest irregularities. Our adept staff takes you through the process step by step, guaranteeing a comfortable and efficient experience.
We are persistent in our dedication to providing outstanding, comprehensive diagnostic imaging since we recognize the crucial value of early diagnosis in successful treatments. Be it an MRI scan, CT scan, digital X-ray, ultrasound, or a scanning consultation, you can rely on us for impeccable results. With TIC Imaging, our focus is your care and satisfaction.
BENEFITS OF TIC IMAGING SOLUTIONS - QUALITY AND EXPERTISE YOU CAN TRUST
Cutting-edge Technology

: With our advanced MRI and CT services at TIC Imaging, including MRI 3 tesla imaging, MRI 1.5 tesla diagnostics, CT 640 slice imaging, and more, we assure you accurate and fast results.

Expertise and Training

: Our technicians, the unsung heroes of our clinic, are renowned for their expertise in diagnostic imaging consultations, ensuring patient safety and accurate diagnosis.

Tailored Imaging Services: TIC Health's professional diagnostic imaging focuses on the individual, ensuring personalised imaging services for a comprehensive diagnosis.
Innovative Facilities

: Our facilities equipped with cutting-edge medical imaging solutions are designed keeping the patient's comfort in mind, reflecting our patient-centred approach.

Holistic Approach

: Radiological examination or any other medical scanning technologies, our comprehensive approach ensures you get the best treatment pathway.
PREPARING FOR YOUR DIAGNOSTIC IMAGING APPOINTMENT
Any medical procedure can be a frightening experience. We believe in guiding you every step of the process at TIC Health. Here's a detailed guide on preparing for your diagnostic imaging appointment:
DOCUMENTATION & IDENTIFICATION
Insurance Information

: Ensure you bring along your insurance card or any relevant documentation if your procedure is being covered by an insurance provider.

Valid Photo ID

: A form of identification, like a driver's licence or passport, helps us confirm your identity and ensure the safety and privacy of your medical records.

Relevant Medical Records

: If you have had previous scans, tests, or relevant medical history, bringing them can provide our specialists with a more comprehensive view, aiding in accurate diagnostics.
CLOTHING AND PERSONAL ITEMS
Appropriate Attire

: Wear comfortable, loose-fitting clothing. Depending on the type of scan, you may be asked to wear a gown. Avoid clothing with metal components like zippers, hooks, or underwires, as they can interfere with certain imaging technologies.

Jewelry & Accessories

: It's best to leave jewellery, watches, and other metal accessories at home. If worn, you'll be asked to remove them before the procedure.

Cosmetics

: Some cosmetics contain minerals that might interfere with imaging. Consider skipping makeup or using minimal amounts on the day of your appointment.
DIETARY AND MEDICAL GUIDELINES
Fasting

: Some scans, especially those with contrast, might require you to fast for a specific period before the procedure. You'll be informed of this during your scheduling.

Medication

: Continue taking your regular medication unless instructed otherwise. If you have concerns or are on medication that affects kidney function, consult with the imaging department or your doctor.

Hydration

: Drink plenty of water before your appointment, especially if you're scheduled for a scan that uses contrast dye. This helps in flushing out the dye post-procedure.
FREQUENTLY ASKED QUESTIONS